Considering a Foam Crib Mattress?
Did you know that a good quality foam crib mattress is just as good as a quality innerspring mattress? It will also last you just as long.
How do you determine quality?

Here's a few things to keep in mind:
Weight – heavier foam usually means a better mattress
Firmness – firmer foam is better foam
Resiliency – does it regain its original shape when weight is removed from the mattress? Quality foam will regain its shape quickly
Compared to an innerspring mattress, a
foam baby mattress
is lightweight. In fact, most only weigh about 7lbs. This helps a lot when you are changing the sheets. We all want a
mattress
for our baby that is comfortable and sturdy. We want our precious baby to experience peaceful sleep. So keep in mind that a good quality foam mattress will always be very firm.
It should also have clear-cut corners that will prevent the fitted sheets from coming off. That said, high quality and affordable crib mattresses do exist.
My Top 3 Affordable Foam Crib Mattresses
#1 - Colgate Classica I
#2 - Colgate Eco Classica I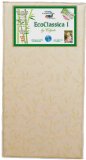 Please remember to stay away from a foam mattress that might sag when your baby lays down in it. An example of a high quality mattress is the Visco Classic Colgate Foam Crib Mattress. This crib mattress contains four inches of extra firm memory foam and two inches of elastic memory foam. Here's an example of a memory foam crib mattress. The memory foam side is intended for toddler use.
How to test for denseness of a foam mattress?
Test #1
Place the mattress edge under your arms and put your weight on it.
If the mattress curves into a bow, it is not dense enough for your baby to sleep on.
Test # 2
Place the mattress in between your palms and .......press!
If the mattress is dense enough it will not compress inward
Look for a foam mattress that has a quality vinyl cover.
Vinyl Cover Features to Look For:
Repels spills and wetness (waterproof)
Durable – will resist wear and tear (make sure it's double stitched)
For example the Colgate Classica III
crib mattress has a waterproof, nylon reinforced, triple laminate crib mattress cover. This particular cover is hospital grade, antibacterial, and non-allergenic. I would recommend it to families that have allergy and asthma problems.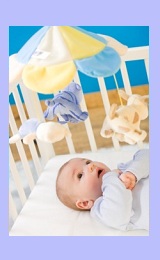 What does it mean when a manufacturer claims the mattress has antibacterial qualities?


It means that an antibacterial chemical was added to the vinyl to help fight bacteria on the surface of the mattress.
Personally, I would not concern myself with this feature, because babies wet themselves constantly. Instead, a good quality crib mattress pad is what I would use. Mattress pads are washable and therefore the best defense against bacteria.
What does it mean when a manufacturer claims the mattress is non-allergenic or hypoallergenic?
They're just fancy words that state the mattress is made of foam instead of fibers such as cotton that might cause allergic reactions by attracting dust mites.
Summary:
Recommended Features to look for when Buying a Foam Crib Mattress:
Make sure the mattress is very firm – this will prevent suffocation pockets
Lightweight (6-8lbs), changing sheets will be easy
Clear-cut corners that will ensure the sheets stay on securely
Constructed from more than a single foam slab
Tip: look for a mattress that has thick reinforced upholstery.