Organic Baby Blanket Tips
I decided to purchase an organic baby blanket for Samantha because I did not want her to be wrapped in a chemically treated blanket. And because Samantha is prone to developing allergies as it runs in the family, I wanted to get a blanket that would help keep these allergies at bay. As an additional bonus, I knew I was helping out the environment by choosing organic.
SwaddleDesigns Organic Ultimate Receiving Blankets
are the best organic baby blankets that money can buy. They have outstanding reviews on amazon, and the quaility is unmatched.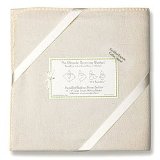 SwaddleDesigns Baby Blankets
certified organic are designed by a registered nurse and mother of two young children. This lady obviously knows her baby blankets. These blankets have a multitude of uses beyond swaddling such as a privacy throw when breastfeeding, play mat for tummy time, and a shield over the stroller to protect from the sun or cool breeze. They are machine washable and proudly made in the USA. In addition, they are available in many different colors. So whether you have a baby boy or girl, you can find one to match the gender and/or nursery color.
For safety purposes, I make sure that Samantha's feet are at the foot of the crib and I always tuck the blanket around the crib mattress. But I Never bring the blanket higher than her chest.
An organic baby blanket may be used for:
Cuddling
Burping
Nursery
Stroller
Swaddling
As parents we obviously want only the very best for our babies. When it comes to selecting the right organic baby blanket I usually look for the following
features
:
100% certified organic cotton
Low impact dyes used
I personally go for the machine washable ones (saves time)
Must be durable and made to last (Samantha's blanket has edge stitching all around)
It must be big enough for my baby's crib (38" x 38" is a good size)
Fabrics are pre-washed and pre-shrunk
Fair-trade certified (no child labor used to produce the blankets)
Must be really soft and preferably double layered
Whitened with hydrogen peroxide instead of harsh chemical bleachers
Traditional cotton vs. Organic cotton
Traditionally the production of cotton uses large amounts of chemicals (insecticides and pesticides) that are harmful for the environment, wildlife, and affect ground water. Chemically treated cotton by-products are also processed to produce many different everyday products such as cooking oil and cosmetics.
Organic cotton is not only grown free of chemicals but it is also much softer and healthier for the skin. This is a huge benefit for babies since they have sensitive skin and weaker immune systems.
What size does my baby need?
There are different blanket sizes available depending on its intended use. The largest are needed for the nursery, I look for at least a 38" x 38" so that I may tuck the blanket around Samantha's crib mattress. The medium sized blankets are used in the stroller and they should be around 27" x 38". While the smallest are usually around 17" x 20" and they are intended for cuddling your little one.
How much should I expect to pay?
Depending on the brand, quality, and size, organic blankets range from $25 to + $100 for the higher end crib blankets. I believe I spent around $30 for my little ones crib mattress organic blanket on Amazon.com
. It was definitely a wise investment.
I hope my experiences and these tips help you choose the perfect organic blanket for your precious little baby.




Organic Baby Blanket to Organic Crib Mattress