Angelcare Monitors
For Your Peace of Mind
In my opinion, Angelcare Monitors are a wise investment.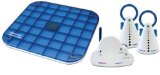 The above image is an example of a sound monitor & movement sensor package
. This particular Angelcare Monitor unit is produced by bebesounds - a reliable baby product manufacturer.
It detects sound and features a built in movement sensor. This is a great product that helps prevent SIDS. I am quite pleased with the way it performs.
I invested in the deluxe version for Baby Samantha. It detects every tiny body movement, even when Samantha is sleeping. If no movement is detected for 20 seconds, a loud alarm goes off.
There's also a built-in thermometer that will alert you of the exact room temperature of your baby's room.
This actual movement sensor pad is designed to detect even the slightest movement that is created as a result of baby breathing. It is placed underneath the crib mattress, so it doesn't get in the way.
Here's a few tips you should keep in mind:
Remember to turn the unit off when taking your baby out of the crib (otherwise the alarm will go off)


Even when plugged in, I still recommend inserting the AAA batteries


Occasionally there may be false alarms - but you never know, so take them very seriously


Get comfortable with the indicator light on your unit - I call it peace of mind
Compared with other similar units, this unit is reasonably priced. Last time I checked
Amazon.com
has it for sale at the lowest price you will find anywhere for the sensor and monitor combo. It also comes with two parental units.
As you can see, these baby monitors are reliable little devices. I am happy that I placed one of the movement sensors under Samantha's
organic crib mattress
.

I can't imagine what might have happened if I didn't. Expect to pay a bit for this device, but I truly believe it's worth every single penny. I also think it's a must have for premature babies.