What is the Standard Crib Size ?
Choosing the right baby crib size
is essential for keeping your baby safe in the nursery. The U.S. Consumer Product Safety Commission requirements for full size baby cribs states:

The interior must be 52 inches long by 28 inches wide
Slats cannot be more than 2 3⁄8 inches apart. If the separation is more than 2 3⁄8 inches, there's a potential for injury or strangulation if a baby gets stuck in between the slats.
The top of the adjustable rail at its highest position must be at least 26 inches above the of the mattress support at its lowest position.
The top of the adjustable rail at its lowest position must be at least 9 inches above the top of the mattress support at its highest position.
Hardware must be designed and constructed so that it does not pinch, bruise, crush, lacerate, break, any part of a childs body during normal use.
Locking devices for dropside rails must require two distinct actions or a minimum of 10 pounds of force for release.
Wood screws may not be used to connect stationary sides, dropside rails, folding rails or stabilizing bars to crib ends or other parts that a consumer must remove during normal disassembly.
All wood surfaces must be smooth and free from splinters, splits, cracks, or other defects that might cause a crib or any of its parts to fall off or come apart.
The crib that you decide to buy should also have detailed assembly instructions as well as identifying marks,cautionary statements and compliance declarations.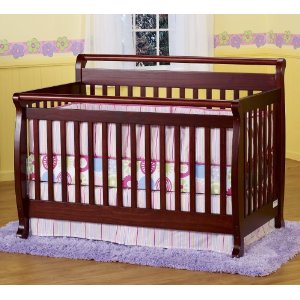 This is one of my favorite baby cribs
. It's the right size and very affordable. It's also convertible so it can be used for many years to come.
I often recommend reading some of the reviews on Amazon.com. This crib is very well rated, seeming easy to put together within an hours time, includes good installation instructions, is well packaged, seemingly sturdy and well made. I also saw a comment, "The fact that this converts from a crib, to a toddler bed (toddler rail included), to a day bed, and then (with added rails) into a full sized bed is completely awesome."
Also remember that the mattress should be at least 27 1⁄4 inches by 51 5⁄8 inches and have a thickness less than 6 inches.
Please keep in mind that proper mattress, crib size and crib dimensions are much more important than the look or style, which do not contribute towards safety. I am positive that your newborn will not be concerned about the cribs colors. It's your obligation to make sure that it is both the correct size and safe.




Crib Size to Crib Mattress Size