Cribs Safety Requirements
The following are some cribs safety requirements published by the US Consumer Product Safety Commission:


The adjustable rails should be at least 26 inches above the mattress at its highest and 9 inches at its lowest level.
The hardware should not have any sharp edges which may pinch or bruise the baby in any way.
The locking device must be able to withstand a pressure of at least 10 pounds of force for release.
The use of wooden screws is restricted.
The construction/finishing of the wood surfaces should not have splinters, cracks or other defects.
All decorative openings should keep in mind that the baby's head or neck does not get entrapped in them.
Assembly instructions and labeling details must always accompany the product.
Our children's cribs safety is something I take very seriously. I believe that every parent should be aware of the guidelines and tips to keep their baby safe inside their crib.
The following are cribs safety tips from the Consumer Product Safety Commission:
Place baby on his/her back in a crib with a firm, tight-fitting mattress

Do not put pillows, quilts, comforters, sheepskins, pillow-like bumper pads or pillow-like stuffed toys in the crib

Consider using a sleeper or a sleep sack instead of a blanket

Use only a fitted bottom sheet specifically made for crib use
Click here for a list of precautions when using
baby crib sheets
with your crib mattress. I always make an extra effort to make sure my wife and I are following all of these safety guidelines. We just want to make sure that Samantha is safe inside her crib and when sleeping on her
organic crib mattress
.
While allergy mattress covers are a good idea if your baby is sensitive to allergens, there are many other things to check for that often go overlooked when it comes to a crib for your baby.
When you are checking your crib for safety, the Commission also recommends that there should be:


A firm, tight-fitting mattress so a baby cannot get trapped between the mattress and the crib

No missing, loose, broken or improperly installed screws, brackets or other hardware on the crib or mattress support

No more than 2 3/8 inches (about the width of a soda can) between crib slats so a baby's body cannot fit through the slats; no missing or cracked slats

No corner posts over 1/16th inch high so a baby's clothing cannot catch

No cutouts in the headboard or foot board so a baby's head cannot get trapped
Here are some guidelines for mesh-sided cribs or playpens:
Mesh should be less than ¼ inch in size, smaller than the tiny buttons on a baby's clothing

Mesh should not have any tears, holes or loose threads that could entangle a baby

Mesh must be securely attached to top rail and floor plate

The top rail cover should have no tears or holes

If staples are used, they should not be missing, loose or exposed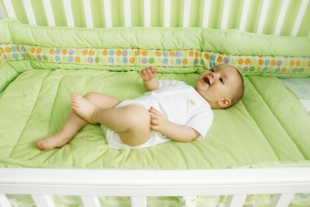 Amazon.com Crib Mattress Deals and Savings
Cribs Safety Requirements to Home Page