Sony Baby Monitors
Tuning In To Your Baby
Are you interested in a Sony Baby Monitors
? This specific model could be considered due to its long range. At the same time the indicators on the receivers will tell you if you are out of range or if the battery is low. This unit automatically selects the best possible channel - that results in very good reception.
Let's begin by looking at the:

Sony 900 MHz BabyCall Nursery Monitor with 2 Receivers
.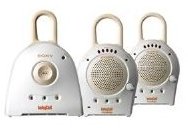 Features:
Contains 27 different channels that eliminate interference
900 MHz technology - results in a long range
Two receivers - create convenience and peace of mind
Receivers contain rechargeable batteries
Includes belt-clip - allows you to wear it
Receiver weighs only 5.6 ounces
Contains voice activation
What about Customer Reviews? This model has many mixed reviews on Amazon.com. Here are a few of the very positive reviews I read for baby monitors. There several others from people who did not have as good of an experience.

The average rating was 4 out of 5 stars. Feel free to look over the reviews
as I hope they help you make your decision.
If you have used any baby monitors in the past, please email me your comments and suggestions, so that I may add them to this page. Your knowledge would be truly appreciated by myself and many other parents who are having difficulty deciding.
We as parents want the very best products for our precious babies and our hard earned money. Whether they are sony monitors or the latest organic crib mattress, we need to stay informed. Good luck in your search for high quality and reliable baby products.