Top Graco Baby Cribs
Let's take a look at some of the top selling Graco Baby Cribs on the market today.
I decided to review these cribs because Graco is known for their quality cribs and excellent customer service.
1. Graco Lauren Classic Convertible Crib
- The reviews on Amazon.com
say it all. Parents that purchased the Graco Lauren Classic Convertible Crib are saying that it is very easy to assemble. In fact, even pregnant moms are saying that they are assembling it by themselves. I still recommend that you should get help to assemble it if you're pregnant, but the ease of assembly is a positive in my opinion. The price is also very attractive. You can purchase this crib for a very reasonable price.
2. Graco Sarah Classic 4 in 1 Convertible Crib
- The Graco Sarah Classic Convertible Crib is a popular choice for safety conscious parents like myself. This crib converts to a toddler bed, daybed, and full-size headboard, which allows it to grow with your child from infancy through their teen years. However, to convert this crib into a full size bed, a full size bed frame and mattress will be needed as it is not included. The Graco Sarah features a three-position mattress height adjustment. As your baby gets bigger, you can adjust this crib with ease. Additionally, the crib features stationary side rails. This was a huge selling point for me, as safety is my main concern. And last but not least, this crib is backed with Graco's iron clad five-year limited warranty against manufacturer's defects. In the rare event of a defect, you're covered!
3. Graco Shelby Classic 4 in 1 Convertible Crib
- This crib can be thought of as both an island crib, which means it can be put in the middle of a room so baby has a 360 degree view, and a classic crib which means it has no moving parts. The Shelby also lends itself to apartment-style living because of its smaller footprint. The design of this particular crib was inspired by the hallmark of the American Empire period sleigh bed. Sleigh bed style cribs are very sought after cribs because of their beauty and sophisticated look. Once again, this crib features stationary sides, which is very important. The price is a bit more expensive than the Graco Lauren and Graco Sarah, but it is still very affordable and it looks sharp! Have a look for yourself.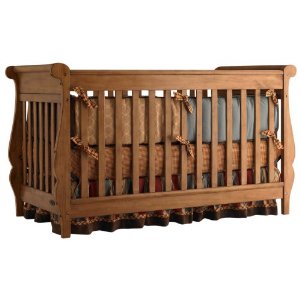 This crib like all Graco cribs are JPMA, ASTM and CPSC safety certified. JPMA - is the Juvenile Products Manufacturers Association. ASTM International - a voluntary standards development organization. CPSC - Consumer Product Safety Commission. Graco baby cribs are among the most affordable, well built baby cribs on the market today. If safety is a paramount, as it obviously is for me, you cannot go wrong with any of these three cribs. All three have very solid reviews, and all three get two thumbs up from me.
In addition to these three classic Graco baby cribs, Graco has a wide variety of Pack and Play Baby Cribs
for families on the go. These pack and play cribs sure do come in handy, especially at Grandpa and Grandma's house!




Graco Baby Cribs to Baby Cribs